Saturday, December 10th, 2016
2 PM
Colonia, former Eni Village of Corte di Cadore
On Saturday, December 10th, Ineffabilis Gellner&Pb, the Colonia (Eng.: summer camp building) of the former Eni Village of Corte di Cadore will be open to the public for the first late autumn open-studio of Progettoborca.
The tour will last about two hours, and will allow for visitors to explore the incredible architecture devised by Edoardo Gellner, discovering the artwork created by the artists in Borca.
We'd like to remind that, in the Village, an International artist Residency program has been active for three years (here you can find the artists' names and artworks. Here a video from a previous Open-studio).
During the visit to the Colonia, the Progettoborca Archive, realized in collaboration with Archim, will be officially presented.
Moreover, the first results of the Progettocoperta (Blanketproject) will be displayed.
The tour will begin at 14, at the Dolomiti Contemporanee Office/Bookshop, inside the Village.
From 10 AM to 6 PM it will be possible to visit the Church of Our Lady of the Cadore.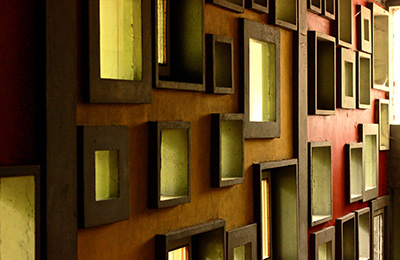 Foto: Brando Prizzon